Laetitia van den Assum was a diplomat in the Netherlands Ministry of Foreign Affairs.  In 2016, she became a member of the Advisory Commission on Rakhine State chaired by Kofi Annan. 
We invited Laetitia to submit some of her own images in support of the competition and to help build awareness. These do not form part of the competition.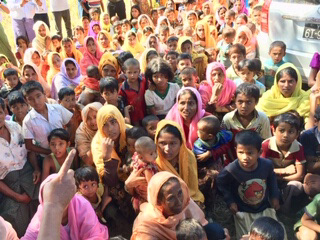 "The Rakhine Advisory Commission  visited a number of villages that had been affected by the military's retaliations for the ARSA attacks of October 2016.  We arrived unexpectedly and once our presence was noted a large group of Rohingya women and their children came running towards us. The security tried to stop them but Annan told them not to.
I wrote about this incident in an obituary of Annan that was published by

Frontier Myanmar. 
I will not easily forget the despair in the eyes and the voices of the Rohingya women. They were alone in the village. Their husband were either dead of had fled."